Find The Best Credit Card For You.
Tailor-fit your search, make the Genius choice, and get rewarded faster.
Best credit card rankings: Methodology
Wonder how we get our rankings?
It's actually pretty complicated and requires a whole lot of math – so we developed our Genius algorithm to do it for us. Behind the scenes of creditcardGenius is a well-oiled machine developed for almost a decade and constantly being improved.
We don't just look at rewards either – we consider over 50 different features of credit cards in our comparison, including the underappreciated aspects, like credit card insurance, rewards flexibility, and acceptance. And we do this for every credit card in our database – all 136 of them.
At the end of it all is one simple number out of 5, our beloved Genius Rating. This shows how good a credit card really is, either relative to the category you've chosen, or just overall.
We wanted to make a way to compare credit cards painlessly, with no fear of bias or dishonesty.
So that's why at creditcardGenius, we're devoted to helping you maximize your rewards, finding perks you'll actually use, and getting you the best credit card for your wallet.
How we compare the best credit cards in U.S.
Want to know more about our Genius Rating? We don't blame you.
We have 7 main categories, which you can find a full breakdown of on our Sliders page:
When you first enter our Compare Credit Cards page, you'll notice all sliders in the left column are set to the middle. This is what we call "default mode" and the weights look like this: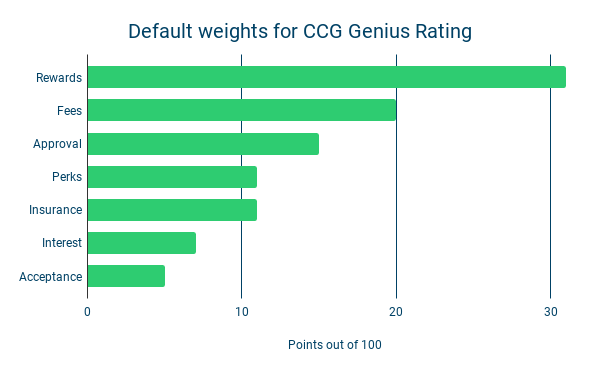 But we don't live our lives by default – we each have our own preferences for what we want in a credit card. That's why you can change the sliders to reflect what's important to you.
Let's look at what happens to the weights when you select a preference.
Category-based best credit cards
Every time you move one of the sliders, the weight for each category shifts accordingly.
Moving one slider will change the weight of that category to be about half, then all the other categories will make up the rest of the weighting, keeping the same ratio they have in the default weightings.
Let's go through the main categories to give you an idea of what this looks like. Keep in mind that selecting more than one slider will further split and change the weightings.
Credit card rewards
You'll want to choose "Cash" on the sliders if you like your rewards to be paid out in the form of cold, hard cash (or statement credits).
Or if you'd rather the most valuable rewards possible, and love to do a bit of traveling, then move that first slider to "Travel."
Either way, here's what the weights will look like in the rewards state: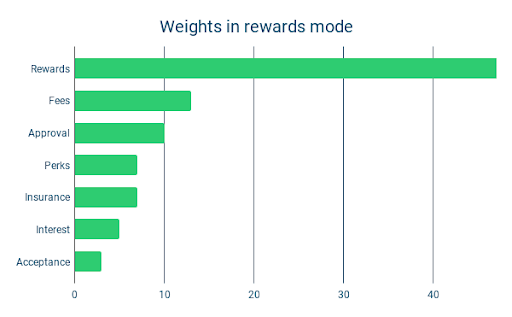 Low fee credit cards
If you love credit cards, but aren't ready for the commitment of an annual fee, slide your marker to "Low fees."
The weights will change like so: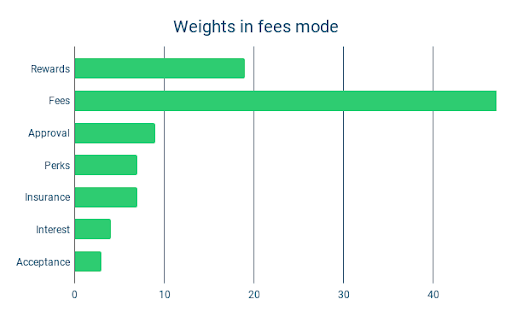 Low interest credit cards
If you're carrying a bit of a balance on a credit card, or tend to often, low interest credit cards could help save you a lot of money.
Here's what the weights will look like behind the scenes if you slide over to "Low interest."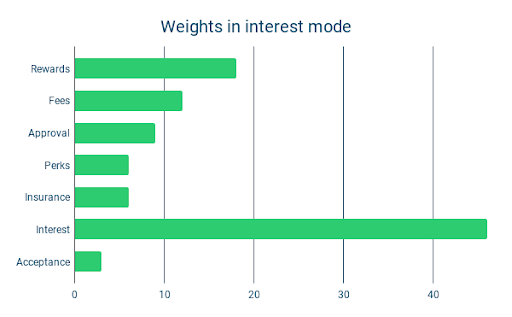 Credit card perks
If rewards are all well and good, but what you really want is to feel like a VIP, then perks could be the options for you.
This is how the weights shift when you select them: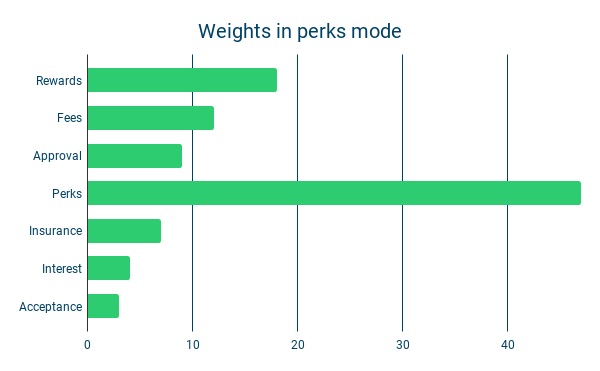 Credit card insurance
But maybe instead of flashy perks, you just want some peace of mind.
This is how the weights will look if you choose "Insurance" as your preference: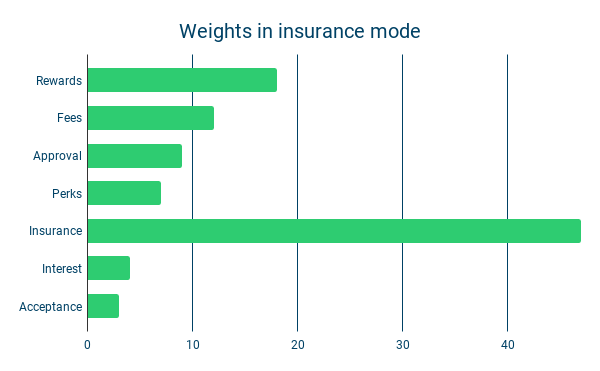 Credit cards with good approval
If your income is under $60k annually or your credit score isn't as good as you'd like it to be, you're better off sliding over to the "Approval" side.
Keep in mind this will give a bit of a boost to American Express cards, since they all have no income requirements.
Here's what the weights look like in this state: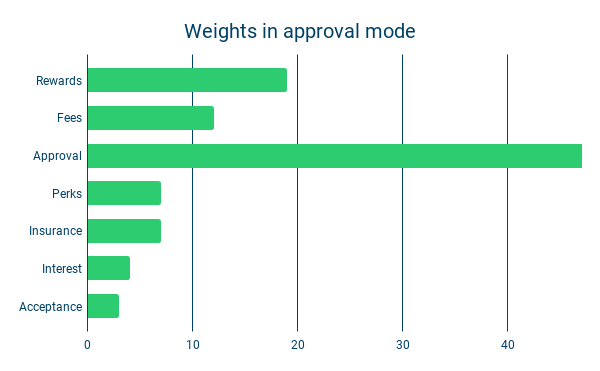 Credit cards with good acceptance
If you don't want to worry about your card being accepted at some merchants, set your preference to "Acceptance."
This will give a boost to Mastercard and Visa while nerfing Amex.
Here are the new weights in this state: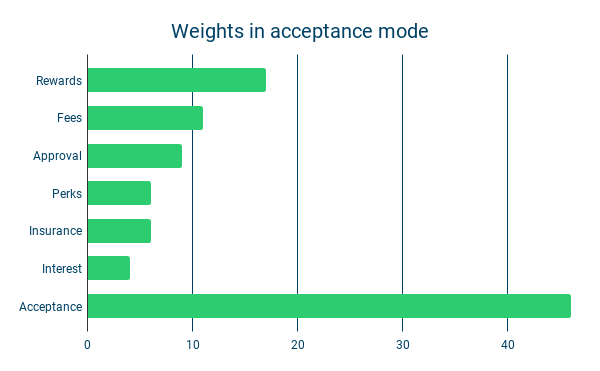 How we calculate credit card rewards
The other important number you'll see on our card summaries is annual rewards.
These are calculated based on our default spending, which we estimated based on various sources. The default breakdown looks like this: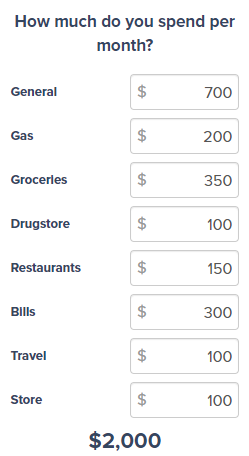 Doesn't really look like your monthly spending? No problem, you can edit any of these fields to be a more accurate estimate for you. The "Annual Rewards" number will be recalculated in real time to reflect your changes.
Try it out for yourself in the left-hand column of our Compare Credit Cards page.
Oh and did we mention it's unbiased?
So now you have a better idea of how everything works behind the scenes. With all the numbers, algorithms, and math going on – there's not much room for bias to seep in.
We'll show you the best credit cards, based on your needs, spending habits, and wants. And not based on our compensation or partnerships.
Find out more about how we make money here.